energyPRO: Tri-generation and renewables analysis and optimisation
energyPRO, a modelling software package from EMD International, is designed for combined techno-economic analysis and optimisation of both cogeneration and trigeneration projects as well as other types of complex energy projects with a combined supply of electricity and thermal energy (steam, hot water or cooling) from multiple different energy producing units.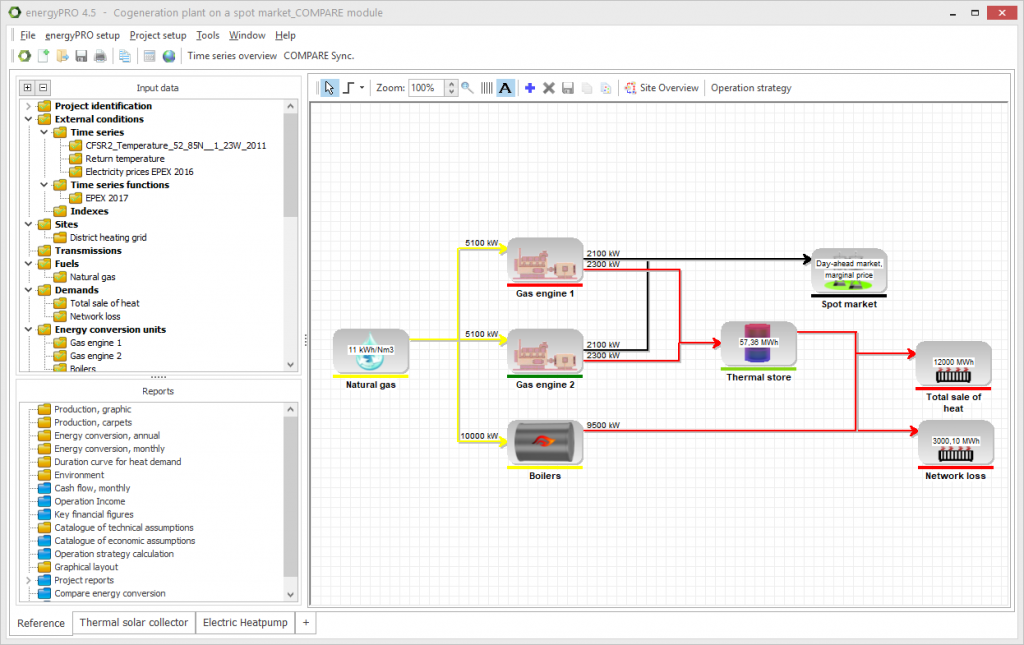 The software is very user-friendly and it is the most advanced and flexible software package for making a combined technical and economic analysis of multi-dimensional energy projects.
What does it do?
energyPRO provides a clear overview of energy projects, including:
clear visual system design
operational simulation
system optimisation
technical and financial planning
What are the benefits?
Operational modelling is easily achieved for all types of energy projects, such as co-generation, tri-generation, biogas, biomass and geothermal projects, and can be simulated and calculated within energyPRO on a minute by minute basis throughout the defined project period.
This unique software combines both technical and financial calculations for individual projects. When modelling changes to plant equipment or operation strategy, it will instantly show you the financial consequences of the change.
Currently there are more than 1,000 users in 16 countries.
Training courses are held at the Energy Institute in London and dates for 2019 are as follows:
6/7 March
6/7 June
12/13 September
For a copy of the agenda click here or to book onto a course please email us at software@carbondescent.org.uk.
To view a recorded energyPRO demonstration webinar, click here.
For more information visit the energyPRO website.