News
Workshops for professionals
14 April 2011
10th May will see the last of our collaborative workshops with CEREB, LSBU and Lambeth Council. These free half day events will showcase how deep cuts in CO2 emissions can be achieved as we move beyond the quick-win solutions. They complete a series of ten workshops for professionals in the industry, such as architects, surveyors, housing professionals and local authority project officers.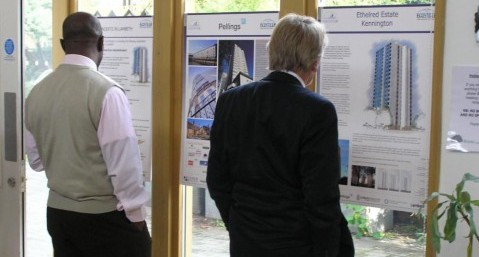 All fully booked, previous workshops have included:
Two planners' workshops looking at the key contingents to producing sustainable statements. The aim here was to help planners validate information received on a sustainable statement and create a template that can be adopted by local authorities.

Three workshops focusing on the refurbishment of the Ethelred Estate in Kennington, where an 80% saving in CO2 has been made. Improvements to the estate included solar cladding, exterior wall insulation and new windows, resulting in a refurbishment beyond Decent Homes standards.

Two workshops focusing on the refurbishment of existing homes to achieve an 80% CO2 reduction. Speakers here included Edward Borgstein from Green Tomato Energy LTD talking on passivehaus standard refurbishments and Jack Skinner from Hired Housing discussing issues with refurbishments in conservation areas.

A Zero Carbon Homes event aimed at architects with Neil Jefferson from Carbon Hub, Will Anderson of the Tree House Clapham and Ruth Newton from Islington Council speaking on promoting zero carbon from a local authority perspective.
Each workshop concluded with a networking lunch, giving delegates the opportunity to chat with each other about projects and share perspectives.