News
'Power of the Sun' community event
26 May 2011
On the 18th of May Jessop Primary School hosted an event for pupils, parents and the local community.
'The Power of the Sun' event, showcasing the school's new solar panels, brought together residents interested in creating a more sustainable Lambeth through the use of solar renewable technologies. The afternoon kicked off with a podcast from Jessop pupils explaining the project and the activities they have been undertaking with Carbon Descent, followed by games such as 'create your own green street' and a chance for pupils to design their own eco house.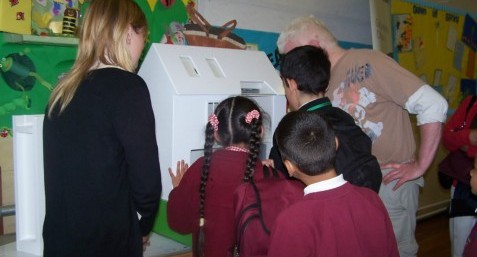 People also had a chance to play with Lambeth Council's interactive house, designed to show how much money and energy can be saved through simple energy saving measures. This was hugely popular with both adults and children!
Joining us at the event were stalls from Transition Town Brixton, giving energy saving advice and showcasing draught busting techniques.
The main event saw guest speakers - Jon Halle from Sharenergy and Will Cottrell from the Brighton Energy Co-operative - giving inspirational talks, providing information on how to set up community owned renewable installations and the benefits of doing so.
The Power of the Sun event was a great success, receiving excellent feedback from those who attended. With many environmentally-minded and enthusiastic members of the local community attending, we are confident this will be the start of energy co-ops within the borough of Lambeth.