News
Ecostiler Solar Schools goes live!
16 November 2010
The first round of primary schools in the London Borough of Lambeth have installed their solar PV and solar thermal panels, as part of the Concerto Solar Schools project.
Telferscot, Vauxhall and Streatham Wells primary schools have been working with Carbon Descent to raise awareness of energy saving and renewable technologies within the school and local community, and can now lower their carbon emissions even further.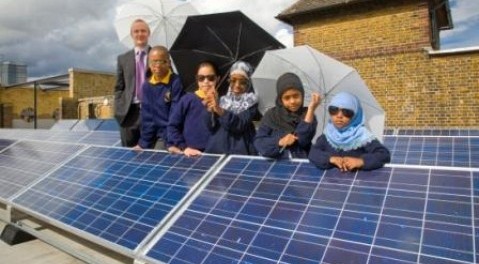 We have been working closely with the pupils, parents and teachers of each school to create a more sustainable community, developing and providing teaching materials, monitoring electricity use encouraging energy efficiency in the home and at school.
Year 5 have received special climate change lessons, came up with their own energy saving ideas and even helped us conduct a professional audit of the school building. This involved the pupils helping us to identify such things as natural lighting levels, the number and type of lights, appliances left on or on standby and draughty doors and windows. From this we were able to give recommendations for measures that would improve the energy efficiency of the building and reduce fuel and/or water costs such as changing the lighting, draught proofing, insulation and tips on improving energy efficient behaviour.
We are currently working with pupils and teachers in the second round of schools, who are due to have their solar panels installed early next year.
CONCERTO is part of a European-wide project to create low carbon communities through improving energy efficiency, installing renewable energy technologies and providing training and teaching resources. Lambeth Council and Carbon Descent are partners in CONCERTO, co-funded by the European Commission.
For more information see Research and Evaluation: European Commission 'Concerto' funded Ecostiler
Picture: Pupils at Vauxhall Primary School visit their solar panels. (Image from Lambeth Life magazine.)