St Peter's School Walworth Travel Plan
School travel plans are designed to provide green alternatives to travelling by car. Initiatives that can have a real impact on school travel include cycling trains, walking buses, walking chalking and route identification using geographical analysis of pupils' options.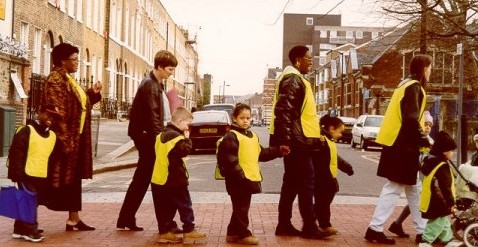 The school travel plan for St. Peter's included a summary of the school's transport and road safety problems, proposed initiatives to address these problems, and set out a programme for implementation and monitoring. To introduce the concept to the pupils and understand their needs and interests, an assembly was organised, and hands up surveys were conducted around the school. Parents were surveyed and provided with promotional leaflets about the scheme. The measures introduced as part of the travel plan included:
A walking bus to enable the pupils to walk to school in supervised groups
Cycle training to improve ability and confidence
Road safety education to make the pupils aware of the dangers and protected them on their journey to school
Recommendations for the travel plan were developed on the basis of the surveys, our understanding of the local context, and recognised good practice. To ensure that the plan was appropriate, educational materials for the relevant national curriculum age groups were researched.