Ecostiler Solar Schools
Households and schools alone contribute to nearly one third of UK's CO2 emissions. Older constructions, particularly those built before the 'Building Act 1984', generally have poor energy performance. The EU project Ecostiler is currently trying to deal with these inefficiencies by retrofitting and installing on-site energy generation on a range of constructions in Europe. The project's goal is to reduce the buildings' carbon footprints, fight fuel-poverty and raise awareness to climate change.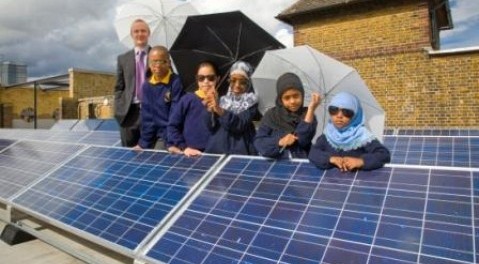 In the pursuit of helping groups in delicate financial situations reduce their heating bills,Lambeth Council chose two social housing estates and six schools to be part of this ambitious project. A key deliverable of Carbon Descent's as project managers is the production of a socio-economic analysis to assess the impacts of the project. To date, theEcostiler project has completed the installation of solar PV and solar thermal panels on three schools in Lambeth, with a further three due to receive their installations in early 2011. The schools were chosen based on a number of factors: the positioning of their roofs being most suitable for maximizing the power output of the solar panels; them having a sufficiently large, un-shaded, roof space to accommodate the installations; the school using a central boiler and hot water tank that the solar thermal system could link into; and lastly, other works already being scheduled meaning that the installations could be done in parallel with them.
These installations are a part of a wider, holistic project and will be used as a basis for education and awareness raising within the school and local community. In order that schools fully benefit from the installations, Carbon Descent are providing a range of services to aid the process. These are tailored to meet the needs of each particular school and incorporate and energy audit of the school, interactive class lessons, teacher training and continuous monitoring of energy use.
Carbon Descent work closely with the schools to engage the whole school community as this is vital to maximise the learning opportunities from the project. Face to face meetings were held providing an opportunity for the head teacher and wider school stakeholders to ask questions, exchange ideas and optimise the learning opportunities and chances to involve the pupils.