Access to Energy
We all need to take action to cut our use of energy and not all of these changes need to be expensive. Making small changes can have a range of significant benefits from ongoing reduction in bills to knock on improvements in health. Learning about the day-to-day changes we can all make has an extra level of complexity for non-English speakers as most of the current information on energy saving in the home is only provided in English.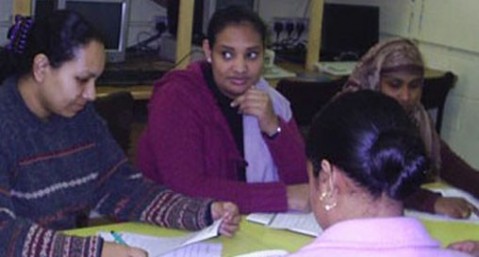 We designed a scheme to 'train the trainers' and secured Big Lottery funding for the venture. We recruited bi-lingual members of communities throughout south London and trained them in domestic energy efficiency. They in turn went on to deliver advice to their community. To date we have worked with speakers of Bengali, Vietnamese, Somali, Tigrinya (of Eritrea) and Portuguese.
The access to energy project also extended training to the Deaf community. In consultation with participants, we adapted our domestic energy efficiency training package to include more visual content and the DVD produced by NEA (National Energy Agency) called 'Meeting the energy needs of the deaf' and delivered the training in conjunction with a signer . In association with Southwark College we trained nine deaf students in energy awareness and have gone on to give energy saving advice in BSL to deaf people in their own communities.

We provided ongoing support and produced written and audio material in the relevant language to be distributed to the wider community both in London and throughout the UK. Topics included heat loss and insulation, energy saving, condensation and how to operate boilers.

In 2006 we trained two Vietnamese women, one of whom went on to complete a City and Guilds Energy Awareness qualification. From an initial workshop attended by 15 people, they are now seeking funding to run a Vietnamese advice line and to give energy advice through home visits. We have enabled individuals to start schemes within their communities, which are better targeted and more accessible than we could achieve from the outside.